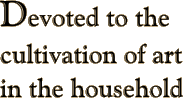 Welcome to Aesthetic Interiors
Our goal is to provide affordable historic wallpapers to everyone from the do-it-yourselfer home restorer to the professional interior designer. Using today's technology allows us to cater to your particular needs. All designs are represented in their original historic pattern size, but upon request can be reduced in scale to fit your needs.
The majority of patterns we offer have come from a large cache of original document wallpaper sample books stored away for almost 100 years! Some designs are totally new adaptations of period-correct patterns, which have been created by our talented in-house artisans.
Another service we offer is reproducing rolls from your original sample of wallpaper. With our sophisticated equipment, we only need a fragment of your sample to achieve a complete pattern. So whether you select one of our many historic patterns or you provide us with one of your own samples for reproduction, Aesthetic Interiors is committed to the historic beauty of your home, business or museum.

Please check out our new section featuring fine art prints. All prints are available in standard high quality prints or hand stretched canvasette. All prints are hand signed by the artist.